Orcs Must Die! Unchained Releases July 18 on Playstation 4
Harmonia
Member
ORCS MUST DIE! UNCHAINED RELEASES JULY 18 ON PLAYSTATION 4
PlayStation®Plus Players Get More Than $20 of Content Free Until August 17
Robot Entertainment today announced that its hilarious free-to-play action tower defense game, ORCS MUST DIE! UNCHAINED, will release on July 18, 2017 on PlayStation 4. In celebration of the release, PlayStation®Plus players who install ORCS MUST DIE! UNCHAINED can jump-start their orc-smashing careers with an exclusive package of in-game currency, skins, consumables, and more. Valued at over $20, this bundle is free for PlayStation®Plus members until August 17th!
In ORCS MUST DIE! UNCHAINED gamers play as the powerful War Mage, magical Sorceress, or brutal Blackpaw, and can unlock a lineup of other awesome heroes; each with unique powers and abilities. The key to protecting a player's fortress is to build an impenetrable gauntlet of traps to hack, grind, flatten, gibletize, and incinerate foes. Players may go at it alone or in teams of three, all the while ensuring that the ugly, greedy, vicious Orcs don't make it into the Rift.
Players battle enemies across multiple game types and difficulty levels, including the classic Survival mode and Sabotage, a head-to-head party mode. Either way, players decide whether they will roast orcs in pits of lava, pound them flat with ceiling traps, or freeze and shatter them with a slash. No matter the weapons and traps players choose, it's sure to be an orc-killing blast!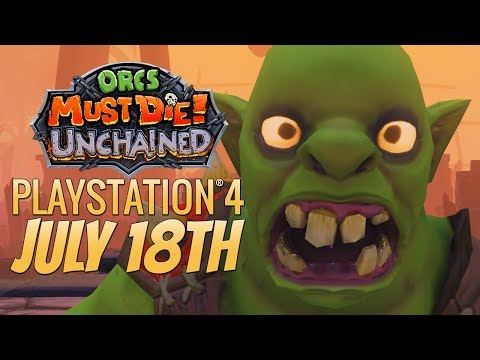 Robot Entertainment | Former Community Manager